DAO Association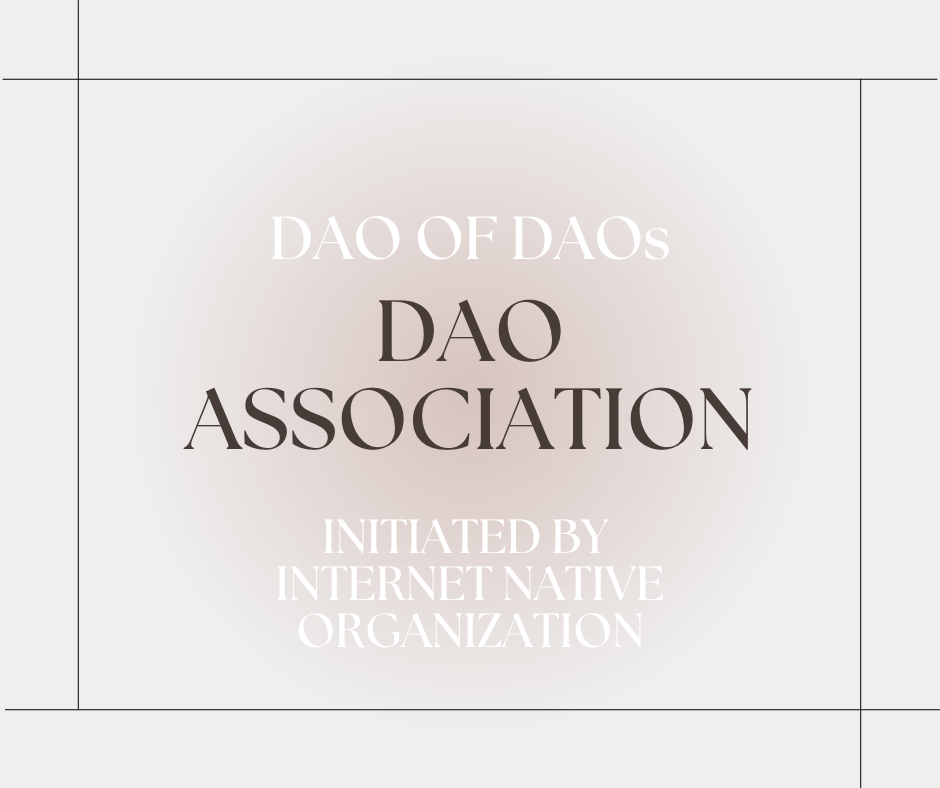 Introducing the DAO Association, an innovative initiative by the non-profit Internet Native Organization (INO) to expedite the adoption and co-development of a standard for Decentralized Autonomous Organizations (DAOs).
Our goal is to identify and share best practices for governance, scalability, engagement, and compliance, while providing education to future DAO pioneers and serving as the ultimate resource for all things DAO-related.
We will host meetups, develop tooling and legal wrappers, cultivate a network of advisors and legal and compliance professionals, push the mainstream adoption and work closely with regulators by bringing them up to speed on what DAOs are.
Member Benefits
Shared Learning — Learn from the experiences and challenges of fellow DAOs. Use collective insights to accelerate your problem-solving, innovation, and operational efficiency.
Collaborative Decision-Making — Help shape the DAO ecosystem by contributing your ideas and insights to the INO's work developing standards, legal frameworks, and practices.
Amplified Influence — Join forces with other DAOs to advocate for our shared interests. Together, we can make our voices heard more effectively in important discussions.
Resource Sharing — Pool resources for common goals. Benefit from collective lobbying efforts, research, and development initiatives.
Networking Opportunities — Engage with other DAOs. Form partnerships and foster a sense of community and belonging.
Risk Mitigation — Collaboratively identify potential risks and devise effective strategies to mitigate them.
Joining the INO DAO Association isn't just about membership. It's about tapping into a powerful network, amplifying your influence, and leveraging shared resources. It's a strategic move that strengthens your DAO and boosts the whole DAO ecosystem.
Who Can Benefit?
Established DAOs — DAOs that have been operating for a while and have an established community can bring a wealth of experience and insights to the table. They can share their learnings, successes, and challenges, contributing to the collective wisdom of the association.
Emerging DAOs — New or emerging DAOs can greatly benefit from the shared knowledge and resources available within the association. They also bring fresh perspectives and innovation that can stimulate discussions and ideation.
DAO Researchers and Academics — Individuals or groups researching DAOs, decentralized governance, or related fields can provide valuable insights. They can help identify trends, challenges, and opportunities in the DAO landscape, supporting informed decision-making.
Blockchain & Smart Contract Developers — Individuals or teams who are adept at blockchain technology, coding, and creating smart contracts are vital. They can help with the technological aspects of DAOs and contribute to the development of better DAO platforms and systems.
Legal and Regulatory Experts — Given the novel and complex nature of DAOs, experts in law and regulations related to web3, and DAOs can provide crucial guidance. They can help navigate legal challenges and advocate for favorable regulations.
Investors in DAOs or DAO-based projects — Investors can provide insights into what makes a DAO attractive for investment, financial trends in the DAO space, and ways to better attract and secure funding.
Community Managers — Those who excel at managing and growing communities can share best practices and strategies for fostering active, engaged, and inclusive DAO communities.
DAO Consultants — These are individuals who advise DAOs on various aspects, such as governance, community building, legal issues, etc. They can offer advice based on the trends they observe across different DAOs they work with.
We believe that a diverse association will contribute to a richer, more holistic understanding of the DAO ecosystem.
Membership Options
A tiered pricing model to allow the INO DAO association to be accessible to a broader range of members, from individual enthusiasts to established DAOs.
---
Individual Membership (€350/year) — Ideal for researchers, academics, individual consultants, web3 developers, or any individuals interested in DAOs. Benefits include access to resources, networking opportunities, and member-only events.
---
Startup DAO Membership (€1000/year) — Tailored to emerging DAOs or those with fewer resources. This tier offers benefits like priority access to educational resources, opportunities to connect with more established DAOs, and discounts on event tickets or services.
---
Established DAO / Scaleup Membership (€2500/year) — Aimed at DAOs that have been operating for a while or Web3 scaleups and have a larger budget. These members receive all lower-tier benefits, plus exclusive opportunities like speaking at events, showcasing their work to the community, or getting priority sponsorship opportunities.
---
Angel Membership (€5000/year) — For larger organizations, service providers or individuals wanting to provide additional support to the INO's non-profit work. Angel members receive prominent recognition on the website and at events, plus the opportunity to influence the association's agenda through a voting seat at the advisory board.
---
Internet Native Organization is driven by the values of mass collaboration, collective ownership and clarity through decentralization, and we are focused on conducting research, developing tools and legal wrappers for the ultimate expression of community, coordination, and collaboration.