Internet Native Organization (INO) Celebrates Inclusion in the European Blockchain Regulatory Sandbox's Inaugural Cohort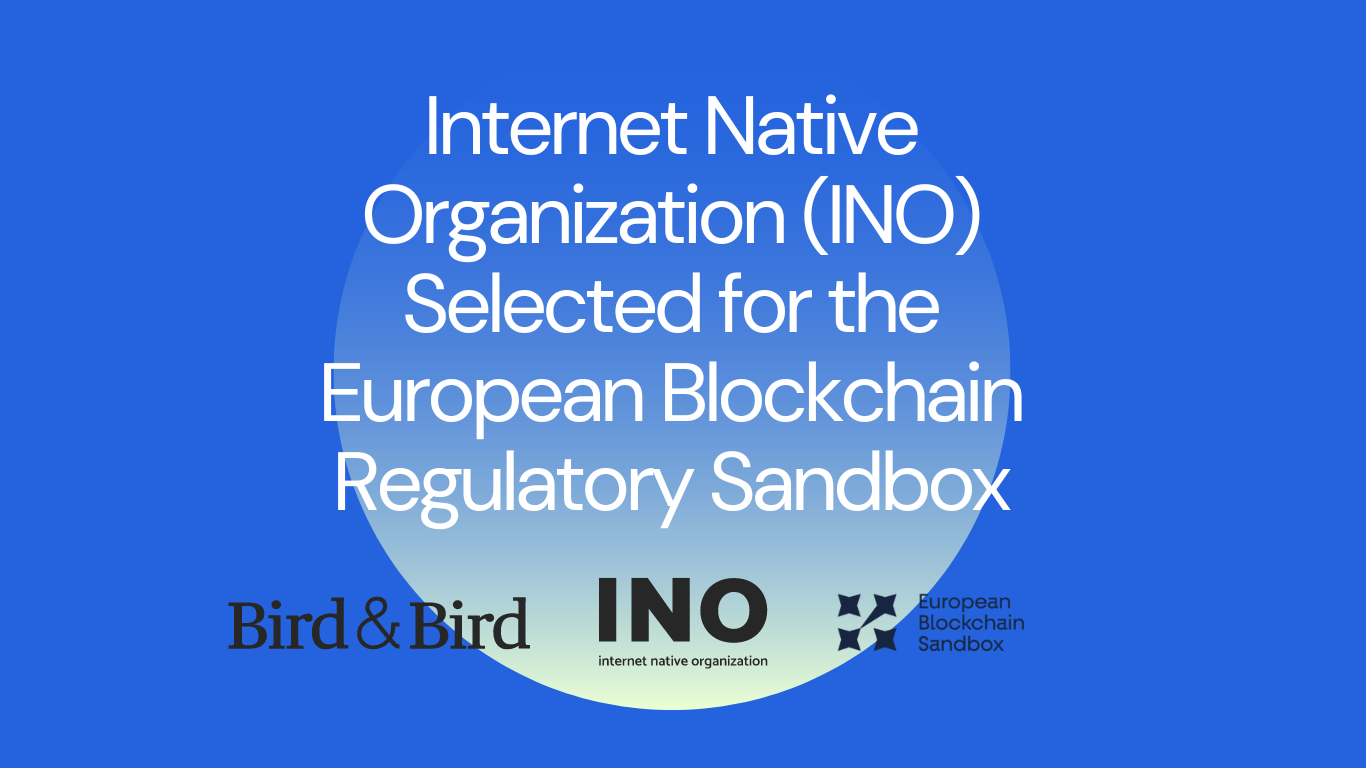 TALLINN, Estonia — September 7, 2023 — The Internet Native Organization (INO) is elated to announce its prestigious selection into the first cohort of the European Blockchain Regulatory Sandbox. As the only organization from Estonia to be chosen, this significant milestone underscores INO's unwavering commitment to exploring the potential of decentralized autonomous organizations (DAOs) and their legal and regulatory landscape in Estonia and Europe.
The European Blockchain Regulatory Sandbox, an initiative by the European Union, is designed to nurture innovation in the blockchain domain. Of the 20 trailblazing projects selected for the inaugural cohort, INO's inclusion stands as a testament to its innovative approach to redefining, reshaping, and rebranding DAOs in a trustworthy and mainstream manner.
Key Highlights:
Regulatory Dialogue: INO's participation will pave the way for robust regulatory dialogues, delving into the potential of DAOs to establish a legal presence in Estonia and Europe.
Legal Ambiguities: The sandbox will address pivotal questions, such as the legal entity status of a DAO, its registration in commercial registers, stakeholder responsibilities, and the validity of blockchain-based decision-making processes.
Promoting Equitable Governance: INO champions a code-driven, community-oriented, equitable governance model that is transparent, trustworthy, and distributed.
Collaboration with European Innovators: INO will collaborate with other selected projects, sharing insights and working towards curating best practices to enrich the broader blockchain community.
"We are deeply honored to be part of this pioneering initiative. Our acceptance into the European Blockchain Regulatory Sandbox is not merely a recognition of our endeavors but also a golden opportunity to sculpt the future of DAOs in Europe. We eagerly anticipate collaborating with European regulators and fellow innovators to drive transformative change in the governance landscape," expressed Vattan PS, Founding Board Member at INO MTÜ.
The Internet Native Organization (INO MTÜ) stands as a beacon of innovation in Estonia as a leading non-profit dedicated to the proliferation of Internet Native Organizations. Upholding a governance model that is code-driven and community-oriented, INO underscores the importance of transparency, inclusivity, and decentralized decision-making.
Notably, INO's journey is marked with significant milestones, including its recognition as Estonia's inaugural incorporated DAO in August 2022 and its role in orchestrating the largest DAO-focused event, DAO Day Estonia, in March 2023.